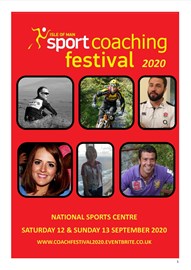 The Isle of Man Sport Coaching Festival will take place on Saturday-Sunday 12-13 September after being postponed due the coronavirus pandemic. 
Now in its third year, the well-attended festival has previously welcomed some of the world's leading coaching and performance experts from a variety of sports. 
Due to travel restrictions, this year's the festival will feature presenters who are at the forefront of the sporting community on the Isle of Man. 
Festival organiser Trevor Christian said:
'It is easy to think that all great speakers have to come across the sea and that's simply not true. There is no better opportunity to celebrate, highlight and draw on the fantastic knowledge and experience that exists right here on the Isle of Man.'
Titled 'Ready for Performance', a total of six speakers will deliver talks and share knowledge on a broad range of subjects including psychology, nutrition, injury reduction and session design. 
Speakers this year include:
Rich Sille - sports psychology
Ruth Cooil - physiotherapy and injury prevention
Hannah Young - sports nutrition
Aaron Quinn - leadership and club culture
Chris Brannigan - adapting coaching to unearth key behaviours
Adam Henderson - STEP process
Tickets are £30 a day or £50 for a weekend pass and can be booked through online booking system Eventbrite 
Isle of Man Sport is committed to reducing the financial barriers coaches face in accessing training and this event is heavily subsidised. 
For more information visit www.isleofmansport.com/coaching, email trevor.christian@gov.im or call 688590.