Isle of Man Sport, the independent body for the promotion and development of sport and recreation on the Island, has appointed two new members following their recent recruitment process.
Isle of Man Sport announced the appointment of Tim Leeming and Stephen Cregeen on four year terms at their annual review.
They will take over from former Olympian Marie Morgan and Gary Corkhill who are both retiring their seats. Mr Corkhill is standing down after an 18 year involvement with Isle of Man Sport, including serving as Executive Chairman for many years.
Dr Alex Allinson MHK, Minister for Education, Sport and Culture, along with the Isle of Man Sport committee, welcomed the new members and thanked Marie and Gary for all their efforts.
The Minister said: 
'The newest committee members will join Andy Varnom, David Morgan and Sarah Corlett who has been appointed Executive Chairman and will lead Isle of Man Sport going forward'.
Miss Corlett said:
'I'm really excited to take on the role of Chairman at such a respected and well-run organisation. We have assembled a group of enthusiastic and knowledgeable volunteers who are keen to assist with the development of sport and athletes and we'll work together to improve all aspects of sport on our Island'.
Isle of Man Sport acts as an independent forum for the promotion and development of sports and recreation on the Island and offers expert advice to the Government.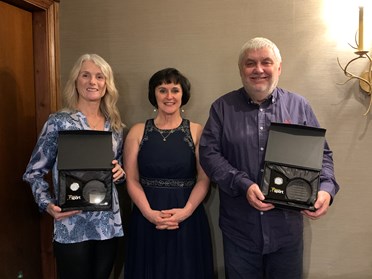 Retiring members Marie Morgan (left) and Gary Corkhill (right) received their 'thank you' gifts from new Isle of Man Sport Executive Chairman, Sarah Corlett (centre).