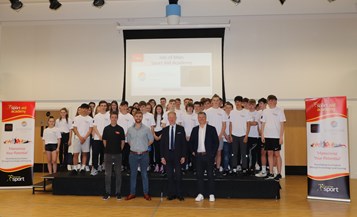 The Isle of Man Sport Aid Academy has launched the second year of its 2019 to 2021 programme designed to help young sports people develop their skills and knowledge base that will aid them in their professional sporting careers. 
The programme, now in its sixth year, covers a wide range of specialisms and training for young athletes between the ages of 13 and 16 to prepare them to take the next step up to the international stage in their respective sports.
The Academy, which is being sponsored once again by co-founders Suntera Global and Newfield in partnership with Isle of Man Sport, commenced with two reboot sessions on Friday 18th and Sunday 20th September and a follow-up session on Friday 2nd October at St Ninian's Lower School (Bemahague). The sessions began with a recap of what had been achieved over the past year and offered an opportunity for the young athletes, their parents and their coaches to come back together for the first time since before lockdown.
Chris Quine, Sports Performance Co-ordinator for Isle of Man Sport, said:
'I am delighted to be continuing the Academy into its sixth year and to welcome our young athletes back for their second year of the programme. Even over the past year we have seen them grow and develop both as athletes and as young people, so we're proud to help them continue on this journey.
We endeavoured to maintain the programme throughout lockdown over Zoom to some success, though the feedback we received from the participants was that they would rather meet again face to face in September, so it is great to be able to finally get everyone back together again.'
'Both Suntera Global and Newfield have been incredibly generous and supportive over the past five years and without this assistance, the Academy would not exist. This initiative has been and will continue to be integral to enhancing the young athletes' sporting careers, so we cannot thank Suntera and Newfield enough for helping us facilitate this.'
Mark Reynolds, Managing Director of Suntera Global's Isle of Man office, commented:
'At Suntera, we are always looking for ways to empower local ambition and the Academy is certainly the perfect initiative for our young sportspeople to do this.
The Sport Aid Academy is about more than just playing sports. It is about nurturing the potential of our young sportsmen and women and give them the necessary skills and support to help them succeed in their chosen sport, as well as setting them up for life. It is a privilege to be involved in this programme and we look forward to seeing where these opportunities take our young athletes over the coming years.'
Denis Mikan, CEO of Newfield, added:
'The Isle of Man Sport Aid Academy is fundamental to our young sportspeople's development and we are proud to be able to support this great initiative for its sixth consecutive year.
It is encouraging to see our young people engaging with this opportunity and taking steps to prepare for their future, particularly in the uncertain times we are currently in. The Academy has given our young people the opportunity to engage with sports even over lockdown as well as the resilience and coping skills they need to manage the situation, so we're honoured to be able to support this.'
The Academy's next session will be held on Friday 6th November with a further physical testing session on Saturday 7th November.