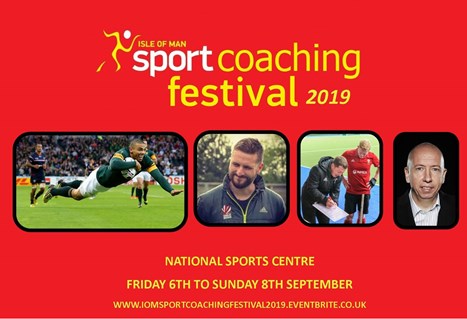 The second Isle of Man Sport 'Celebration of Coaching' will take place at Douglas Golf Club's Meadows Pavilion, on Saturday 7 September 2019. This event pays homage to the army of sports coaches who give up their time freely to provide unrivalled opportunities for the Island's community to participate in sport. 
A large number of coaches from a variety of sports came together for the inaugural event last year, enjoying an evening of reflection and recognition.  Special guest and former England U18 rugby coach, John Fletcher entertained the audience with sporting anecdotes and presented the first Isle of Man Sport Accolade for Innovation in Coaching. 
Gary Corkhill, Executive Chair at Isle of Man Sport, commented:
'Last year the celebration was a real treat for the coaching fraternity of the Island. Isle of Man Sport is committed to continue recognising the efforts of these amazing people, who make the Isle of Man such a proud sporting nation.' 
Starting at 7.30pm, the evening will include a supper in the presence of special guest John Mills, the former long standing director of coaching with British Cycling. John has been instrumental in developing cycling into the powerhouse of both participation and performance sport that it is today. John will share his insights into the importance of creating effective pathways in sport, for both participants and coaches, whether ambitions are either recreational activity or the pinnacle of sports performance. 
The evening is very much about celebration and recognising coaching best practice. With this in mind, Isle of Man Sport will present two awards. Trevor Christian, the Sports Coaching Coordinator at Isle of Man Sport, said:
'Coaches and sports clubs are doing fantastic things that make sport amazing. Let's show them off. Sharing these fantastic coaching ideas and methods can help benefit all sport on the Island.'
As last year, the 'Accolade for Innovation in Coaching' will be awarded to a sports organisation that is transforming coaching in its sport, with initiatives that develop coaching best practice. An additional presentation will be made for the 'Accolade for Excellence in Coaching' in recognition of a volunteer coach who goes above and beyond to support the vast and varied needs of participants in their sport.   
To book a seat for the celebration or to request a nomination form for the accolades, contact Trevor Christian on +44 1024 688590 or email trevor.christian@gov.im.  Forms can also be found in the documents section of the Isle of Man Sport Coaches Forum on Facebook.
The celebration runs alongside the Isle of Man Sport Coaching Festival, where coaches can book onto exciting new workshops and seminars delivered by international coaching experts. To find out more about the festival, including how to book, visit www.iomsportcoachingfestival2019.eventbrite.co.uk.