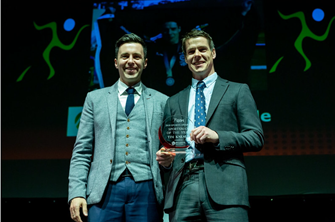 Sports fans will be able to watch the Isle of Man Sports Awards from the comfort of their own home on 23 April, as the Island weathers the impact of COVID-19.
The annual award ceremony scheduled for the 2 April was cancelled last month in response to the coronavirus pandemic, but organisers Isle of Man Sport, wanted to ensure that the dedication and successes of local sportsmen and women was recognised and celebrated.
Since the ceremony at the Villa Marina was cancelled, Isle of Man Sport has been working hard to arrange an alternative, and with the help of Duke Video the idea to make the first ever digital Sports Awards was born.
The show will be available to everyone on the Isle of Man Sport YouTube Channel and social media platforms starting at 7:00pm on Thursday 23 April.
Dr Alex Allinson MHK, Minister for Education, Sport and Culture, said:
'The awards are a real highlight of the Manx sporting calendar, so it is wonderful that the community can still enjoy them this year. I hope everyone will join us for the first ever digital Sports Awards'.
In total there are 11 categories, including sportsman and sportswoman of the year, team of the year and disability sportsperson of the year.
Gary Corkhill, Executive Chairman of Isle of Man Sport, said:
'With sport across the world at a stand-still, we wanted to ensure that the nominees get the recognition they deserve for the hard work and dedication they showed throughout 2019. A huge thank you goes to everyone who has made this possible, along with all of our sponsors who have supported us with our online presentation.'
Microgaming PlayItForward are the headline sponsor and their continuous investment in Manx sport has helped many different sports and athletes across our Island.
John Coleman, CEO of Microgaming, said:
'It's an honour for Microgaming PlayItForward to continue its support for the Isle of Man Sports Awards, especially at a time when team or community spirit means so much to us all. It's important that we come together, albeit virtually, to celebrate the incredible achievements of our island's sporting talent.'
A full list of the categories, sponsors and nominees can be found by clicking here.
You can subscribe to the Isle of Man Sport YouTube channel by clicking here and pressing the subscribe button.