Mental health is a state of well-being in which an individual realises his or her own abilities, can cope with the normal stresses of life, can work productively and is able to make a contribution to his or her community. – World Health Organisation
Consistent high-level performance, in sport and life outside sport, is built on a foundation of good mental health and wellbeing. We are committed to tackling stigma around mental health and maintaining a support structure that promotes good mental health and wellbeing, allowing everyone involved with the Isle of Man Sport Aid programmes to flourish.
Isle of Man Sport Aid - Mental Health Strategy
Isle of Man Sport Aid has put together a Steering Group to lead the development of the Mental Health Strategy. The Steering Group is made up of mental health professionals, athletes (active and retired), coaches, parents, and support staff.
You can find more information about those people working on your behalf here.
Terms of reference can be found here.
Minutes
In the interests of transparency and accountability, minutes of the Steering Group's meetings are published below.
Athlete Survey
Thank you to everyone who took part in the wellbeing survey. Click here to access an infographic showing the key findings and what Isle of Man Sport Aid intends to do to improve support for mental health and wellbeing.
Blog
Sometimes it can be useful to hear, understand, and learn from the personal experiences of others. We are in the process of setting up a mental health and wellbeing blog to highlight the experiences of other athletes and to provide helpful advice on holistic wellbeing and mental health issues.
"How do I access specific support?"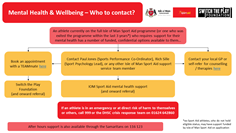 Resources
Coming soon…
We will be updating this page on a regular basis so please check back soon for more news, information, and resources.
Last updated 4th June 2021